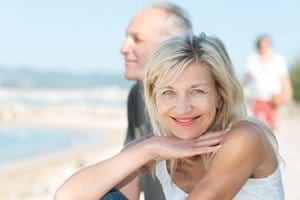 One of the things we are most passionate about at Dentistry at East Piedmont is creating beautiful, natural-looking smiles. We love giving people the confidence that comes with restoring their ability to smile!
Enhancing your smile is just as much an art as it is a science. Today, true cosmetic dentistry requires a well-trained eye, a thorough understanding of dental anatomy and a mastery of dental technique. Our Marietta office is known for creating smiles that are healthy, beautiful and natural in appearance. We understand the intricate subtleties that go into creating the perfect smile for you. 
Here are a few of the ways we might go about creating your smile, but first you'll need to contact us and sign up for your complimentary smile consultation, where we will be able to go over your goals and which treatments will work best for you. 
1. Dental Implants

With titanium-made, dental implant reconstructions, restoring a smile back to its natural beauty and function has never been simpler. Dental implants are used to replace the root portion of a missing tooth– and they are also fitted with a crown to create a natural-looking replacement for the entire tooth. The restoration will not only be beautiful, but it will also fit comfortably and allow you to eat all the foods you love again.
2. Porcelain Veneers
An excellent option for enhancing your smile, veneers are hard, thin shells of tooth-colored material. Translucent and completely durable, they can mask a variety of dental imperfections, such as a chipped tooth, discoloration, and even gaps in your smile. Porcelain veneers can dramatically improve the way your teeth look, from shape to overall appearance.
3. Teeth Whitening
We offer many different whitening options, from in-office to at-home treatments. For best results, we may suggest Zoom!® Whitening to brighten up your smile in about an hour. With proper dental care, plus an annual touch-up at home, your teeth can remain dazzlingly white for years to come.
Choosing the Right Cosmetic Dentist
Not every dentist is a cosmetic dentist. They may claim, "All the work that we do is cosmetic." But it takes years of experience to craft truly beautiful smiles.
Since founding Dentistry at East Piedmont, Dr. Patel has emerged as one of the most renowned, qualified dentist in the state of Georgia, even becoming the only Official Dentist of the Miss Georgia USA and Miss Teen Georgia USA pageants.
He also provides a complimentary cosmetic consultation to discuss your smile needs, assess your facial features and create a treatment plan that aligns with your goals. Download our eBook below to learn what you should look for when choosing a cosmetic dentist and who to vet potential candidates, and we hope to hear from you soon!