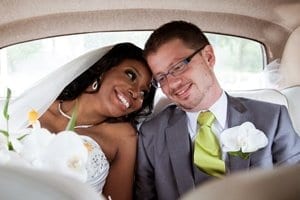 As one of the most important days of their life, every bride and groom wants to look their very best on their wedding day.
On such a joyous occasion you're sure to be all smiles, so we've come up with a few tips to make sure your smile is camera ready in preparation for the big day.
Practice Good Oral Hygiene
Following a proper dental routine in the months leading up to your big day is the simplest way to keep your smile in top condition. Make these steps part of your everyday routine:
Brushing
As always, brush your teeth at least twice daily (once in the morning and once before bed) for a solid two minutes. Regular brushing will keep away cavities and prevent stains from occurring. If you want to go the extra mile, carry a travel toothbrush with you so you can brush your teeth after meals to immediately remove food particles and harmful bacteria.
Flossing
Most people skip flossing, but using dental floss regularly is the best way to keep your gums healthy, saving you from irritated gums with unsightly puffiness. Brushing alone won't remove all the food particles and bacteria from your teeth, so be sure to use floss properly to take care of all the nooks and crannies your toothbrush can't reach.
Rinsing
In addition to keeping your breath fresh, using mouthwash daily reduces your risk of gum disease. Different oral rinse products serve various purposes, so be sure to select the right mouthwash for your needs.
Maintain a Healthy Diet
Many people go on a special diet to prepare for their wedding day, but they often don't consider how their nutritional choices will affect their teeth. Food and drinks come into direct contact with your mouth and teeth, so it makes sense that your diet would impact your overall oral health. Try choosing nutritious snacks and beverages and avoid ones that can lead to stains and cavities
Wear a White Smile
Nothing clashes more with a crisp dress shirt or dazzling white dress than yellow teeth. Your smile is one of the first things people notice about you, so you'll want to address any discoloration before all eyes are on you. With teeth whitening, it's easy to enhance the look of your smile.
There are tons of teeth whitening options available to choose from depending on your timeline and your desired shade of whiteness. If your wedding day is looming and you need quick results, we recommend in-office Zoom!® Whitening, as it only takes one visit to see results and doesn't require any at-home maintenance.
Straighten Your Teeth
Planning a wedding can take a long time, so why not get your smile in shape while you're making arrangements? While a straight smile is something everyone wants, many avoid seeking treatment because they don't want to deal with the embarrassment of bulky metal braces or an extensive treatment plan.
Luckily, you can discretely correct misalignment or crooked teeth issues with comfortable Invisalign aligners in as little as six months. If you plan ahead, you can have a straighter smile just in time to walk down the aisle.
Schedule a Cleaning
If you haven't stopped by your dentist in a few months, there's no better time to schedule a last-minute dental visit! A thorough cleaning will remove minor surface stains and rid your mouth of plaque buildup. We often see patients right before the wedding date to make sure their smile is camera ready.
We provide complimentary teeth polishing for patients to remove last-minute stains before the big day. If you're an existing patient, be sure to contact our office at least five days before the event to schedule your polishing appointment!
Wedding planning is often stressful, but planning your dream smile doesn't have to be. If you're ready to achieve a smile to match your wedding goals, reach out to Dentistry at East Piedmont today to schedule a free cosmetic consultation today.