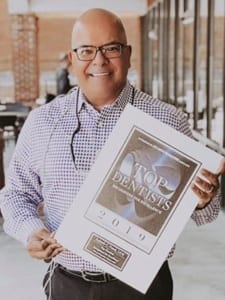 For years, Atlanta Magazine has collected a list of the top dentists in Atlanta, from outstanding general dentists to the best cosmetic dentists in Atlanta. For the second year in a row, Atlanta Magazine has awarded Dr. Ashish Patel with the honor of being one of Atlanta's leading dentists.
Get to Know Dr. Patel
Early in his life, Dr. Patel recognized his passion for dentistry and has spent decades perfecting his craft and studying cosmetic dentistry to offer patients throughout the greater Atlanta area results that go beyond their wildest smile dreams. His appreciation for the field of dentistry still holds true today. Dr. Patel views each patient as an individual with something different to treat and strives for continuous improvement in each case Dentistry at East Piedmont sees.
For Dr. Patel, the beauty of cosmetic dentistry lies not in the aesthetic, but in the way patients transform entirely. In his experience, when someone undergoes a dentistry treatment that addresses their specific smile concerns, they are left more confident and genuinely come out of their shell and smile more.
Dr. Patel's love of dentistry extends even beyond his local Atlanta patients. Helping others is a founding principle at Dentistry at East Piedmont, and Dr. Patel gives back to the global community by volunteering annually with Flying Doctors of America, a non-profit that offers free medical and dental treatment to those in need all across the world.
Giving Back to Our Community: Enter the Project Smile Giveaway to Win a Free Smile Makeover from Dr. Patel!
What Makes Dentistry at East Piedmont Different
Before founding Dentistry at East Piedmont, Dr. Patel worked for a large corporate dental office where he realized patients weren't getting the individualized care they deserve. That's why Dr. Patel started his own practice, where he made sure that patients had enough time dedicated to them to get to know the staff and have questions or concerns addressed thoroughly.
Dentistry at East Piedmont treats patients like family, providing quality service and a comfortable environment for an unmatched dental experience. Dr. Patel even gives patients his personal cell number so that he's always available in case of a dental emergency. When you come to Dentistry at East Piedmont, you know that you're getting the best care possible.
Want to experience the Dentistry at East Piedmont for yourself? Set up a complimentary cosmetic consultation at our office today and see why we are rated one of the top cosmetic dentist practices in Atlanta!