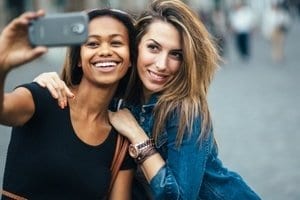 With people searching more and more for ways to restore or improve their smiles, cosmetic dentistry is more popular than ever. An astounding 99.7 percent of adults view a smile as an important social asset, per the American Academy of Cosmetic Dentistry.
There have never been more possibilities for enhancing and improving your smile than there is today. Here are some of the most in-demand cosmetic dentistry treatments we perform at our Marietta, GA practice Dentistry at East Piedmont:
Same-Day Crowns
Dental crowns completely cover a tooth to restore its normal shape and appearance. And according to the American Academy of Cosmetic Dentistry, crowns are one of the most-requested cosmetic dentistry treatments in the U.S.
It's no surprise that CEREC same-day crowns are popular with patients. With CEREC technology, the entire process for same-day crowns takes about an hour. In one trip to the dentist, your crown can be designed, fitted, and permanently placed.
Crowns are ideal for patients looking to cover (or 'cap') a misshapen or discolored tooth, restore a broken tooth, and even to protect a weak tooth.
Invisalign
Bulky metal braces are a thing of the past. Invisalign treatment is perfect for those looking to get a straighter smile without orthodontia. The attractive alternative to braces uses a series of nearly invisible aligners that fit with any lifestyle.
The removable aligners provide patients with the flexibility to eat and drink whatever they like during treatment. You can also remove the comfortable aligners every time you need to brush and floss your teeth, which makes it easy to maintain good oral hygiene.
Porcelain Veneers
Veneers are one of the most highly versatile cosmetic treatments. They can correct cracks, eliminate gaps and provide you with straighter teeth. The ultra-thin shells are custom made from incredibly durable porcelain and designed to cover the front surface of your teeth.
The most satisfying result? Veneers can boost your smile in almost no time, eliminating the 'waiting game' factor of more extensive cosmetic procedures.
Teeth Whitening
Teeth whitening can significantly enhance the look of your smile. At our practice, we whiten your teeth in one of two ways: Using in-office Zoom!® Whitening treatments, or providing a convenient system to use at home.
The Latest Cosmetic Dentistry Trends (Beyond Treatment)
Of course, modernization in cosmetic dentistry isn't limited to specific treatments.
Recently, there has been a significant shift to using ceramic materials in cosmetic dentistry, spurning older metal solutions. Ceramics hold better over time and look better by blending in with your normal tooth color.
Another trend we commonly see is people becoming better informed about the options they have available to them. We love to offer more details about whatever procedure you're interested in.
Stop by Our Office Today to Discuss the Latest in Cosmetic Dentistry!
Are you ready to improve your smile? We want to help! Come to Dentistry at East Piedmont to find out more about the latest in cosmetic dentistry. Reach out to our office today to set up an appointment, and don't forget smile!